Back to all posts
Posted on
Great News! Paddle Prairie School Cleared to Re-Open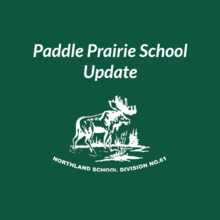 Alberta Health Services (AHS) has completed its review of air quality reports taken at the school today (Tuesday, September 3, 2019).  Two health inspectors were at the school today and they observed all the testing and results. Thank you to AHS for making this a priority.
The previous air quality test results had been sent to AHS on the weekend and were examined by the AHS Air Quality Specialists. All reports, including today's, came back that there were no concerns regarding air quality and staff and students can reoccupy the building. AHS stated the school was cleaned and remediated 'above and beyond' their expectations.
The school will reopen tomorrow, September 4, 2019.
The following school bus routes will be running:
Route 406 - Doris Christian
Route 423 - Everett Piper
Route 425 - Robert Auger
There are still two storage sea cans on the school property that have to be remediated which should be done by the end of September.  
If you have any questions, please do not hesitate to contact Principal Lucas Whittle,  Area Associate Superintendent Shelley Willier or myself, Acting Superintendent Nancy Spencer-Poitras. 
Contact Information
Lucas Whittle, Paddle Prairie School Principal: 
Phone: 780-981-2124 Email: lucas.whittle@nsd61.ca
Area 1 Associate Superintendent Shelley Willier:
Cell/Text: 780-219-9141 Email: shelley.willier@nsd61.ca
Acting Superintendent of Schools Nancy Spencer-Poitras: 
Cell/Text: 780-891-0140 Email: nancy.spencerpoitras@nsd61.ca