Back to all posts
Posted on
First day of school delayed as a precaution for Paddle Prairie School students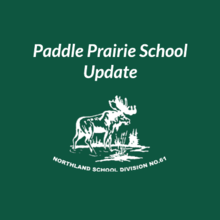 Dear Parents and Guardians: 
The start-up date at Paddle Prairie School is being adjusted due to health and safety precautions related to the restoration work taking place. The decision was made in consultation with the area associate superintendents, the maintenance department and the occupational health and safety manager. As you know, the school suffered severe smoke damage as a result of wildfires. Hired contractors have been working throughout the summer to restore the school to a welcoming, safe and healthy learning environment. Recent tests following the restoration show no evidence of soot, ash or char and no signs of the smell of smoke or other issues. 
However, during the week of August 26, 2019, concerns were shared with the division's senior administration, and therefore we are going to retest as a precaution. Additional tests will be conducted on Thursday, September 5, 2019, by the hired contractor and by an independent environmental consultant. Both tests will be monitored by Alberta Health Services. These tests will then be sent to two independent labs for analysis, which will take five to seven days. 
A tentative start-up date for the students has been created, and is subject to change at any time: 
Monday, September 16, 2019
Stay tuned for information regarding instructional support for students prior to Monday, September 16, 2019. In addition, the school division, with support from the hired contractors, is planning to host a community meeting to update students, parents, staff and community members on the restoration process and the testing that has taken place. Information about supports for students and a date and time for the meeting will be posted on the Northland School Division/Paddle Prairie School websites and Facebook pages. 
We apologize for the inconvenience this has caused. Northland School Division is taking every precaution necessary to ensure Paddle Prairie School is a safe learning environment for students and staff. Thank you. 


Sincerely,  


Nancy Spencer-Poitras
Acting Superintendent of Schools
Northland School Division No.61