Back to all posts
Posted on
Paddle Prairie School celebrates high school graduate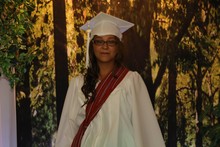 On June 24th, Paddle Prairie School celebrated grade 12 graduate Haley Sowan! Here is special message from Paddle Prairie School Principal Jill Gaudet. 
"The grade 12 graduation ceremony in Paddle Prairie was a celebration for one, but a well-deserved celebration nonetheless. I will miss seeing Haley rush in the morning to work with the ECS students. They were always glad to see her. She showed an incredible amount of patience when working with these young children. The speech therapist who comes from Grande Prairie to work with our children was very impressed with Haley and said she would be willing to give her a reference based on her dedication and performance with our students. Haley attended different schools on her journey to graduation, (Dr. Mary Jackson School and the High Level Learning Store), but I remember when she came back to Paddle Prairie School in grade 10 and she told me she was going to graduate. Haley stayed true to her word and that is why we are celebrating today. Haley has had some difficult days along the way to graduation losing some of her family, but she has persevered and today is her success story. Haley has not determined what her next goal will be, but if her work this year is any indication it will be working with children."
Congratulations Haley and best of luck on your exciting journey!