Back to all posts
Posted on
Northland Games 2015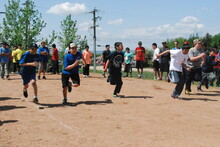 A signature event for Northland School Division No.61 (NSD61) is just around the corner! May 29th marks the 28th edition of the Northland Games! Hundreds of athletes will travel to compete in the regional track and field competition at Grouard Northland School. Elementary students will participate in events such as the 80 metre dash, ball throw, soccer kick and the always popular three legged race. Junior High and High School athletes will compete in events like high jump, long jump, discus, shot put and various running disciplines.

Please join us on May 29th to celebrate student success and take in some enjoyable competition between Northland School Division athletes! Events are slated to begin sometime after 9:00 a.m. Click here to use the Google Map available on the Grouard Northland School website to figure out directions. 
If you're interested in volunteering at the Northland Games, please contact Jackie Sander at 780-751-3772. 
Information for Schools
Click here to view Northland Games Package. This package includes a description for each event and how many students' schools can send to the Northland Games. 
NOTE: Event times listed in package are not accurate and will change. Schools must arrive at Grouard Northland School at 9:00 a.m.! 
Accommodations
Schools are responsible for their own sleeping arrangements. Schools can contact: 
Moosehorn Lodge at 780-751-3280
Peavine Inn and Suites in High Prairie at 780-523-2398 or 1-877-523-2398
Days Inn High Prairie 780-523-3050
Volunteers and Silent Auction Donation
Schools are asked to bring a donation for the silent auction and to bring a volunteer or two to help run events. 
Confirm Attendance
Please confirm:
your school is coming A.S.A.P.,
number of students competing, and
names, grade and event to Jackie Sander jackie.sander@nsd61.ca or Kristy Willier kristy.willier@nsd61.ca. 
If you have any questions please call Jackie or Kristy at 780-751-3772.