Back to all posts
Posted on
Have your say in Education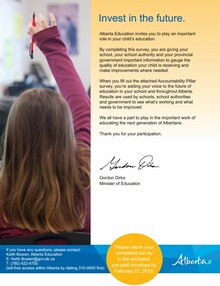 We are asking parents for input by filling out the Accountability Pillar Survey!
The Accountability Pillar Survey uses a number of indicators to determine how schools are measuring up. Click here for more details. 
Once surveys have been gathered, responses will be reviewed by Paddle Prairie School, the Northland School Division Board and the Alberta Government. This process will help us learn what is working and what needs improvement. 
If you have any questions please give us a call at 780-981-2124. 
Click here to learn more about the Accountability Pillar Surveys. 
Click here to view Northland School Division's Media Release.