Back to all posts
Posted on
CTS Week at Paddle Prairie School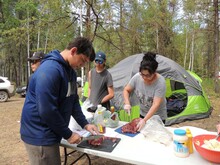 Students at Paddle Prairie School covered a number of Career and Technology Studies (CTS) strands while camping out at the Jack Pines. This is a camping area situated above the banks of the Peace River.
Some of the strands covered include Wildlife 1100: Outdoor Cooking Theory, Wildlife 1130: Outdoor Survival Skills, Food, Evolution, Innovation 3160: Regional Cuisine and Construction, Tools and Materials 1910.
Students built three picnic tables, one of which will be donated to the local senior's centre, cooked outdoors and built some outdoor shelters, as well as participating in other activities. Student feedback was favourable and the weather cooperated nicely.