Back to all posts
Posted on
Indigenous Youth Science and Traditional Knowledge Fair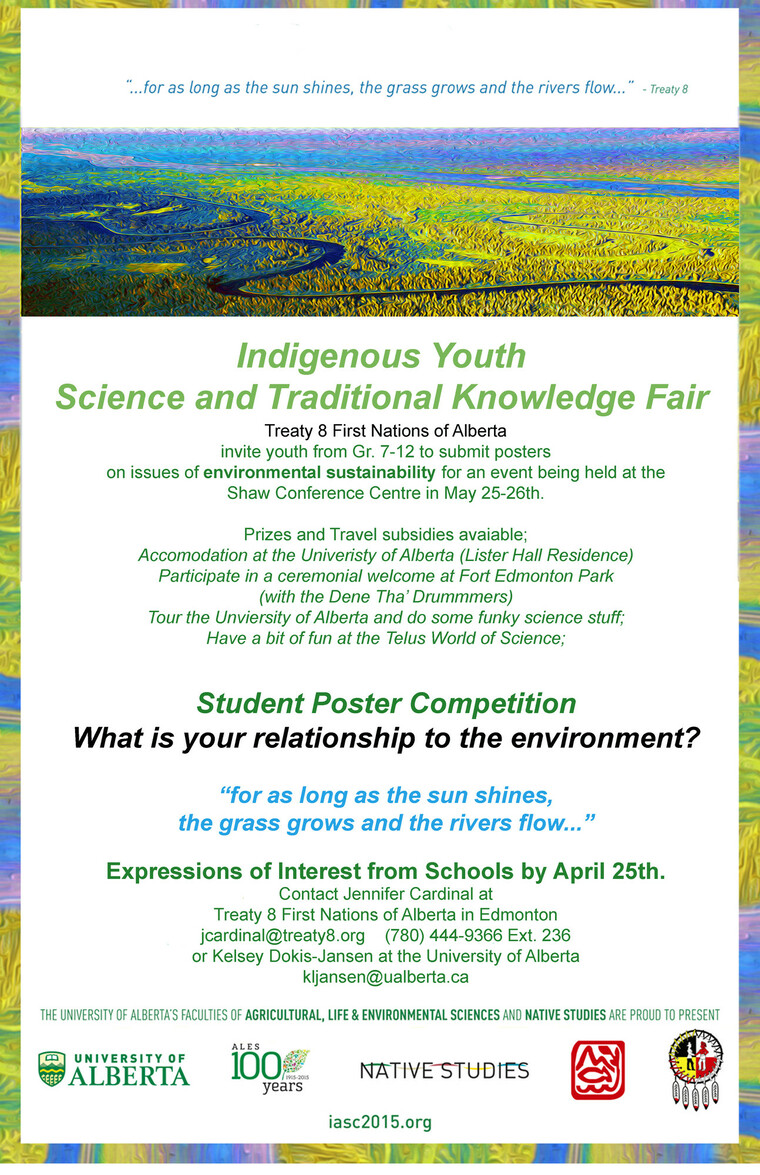 The Faculty of Native Studies - University of Alberta is co-hosting a Traditional Knowledge - Science Fair with Treaty 8 First Nations of Alberta, and the Treaty 6 Confederacy. The vision of the fair is to bring together youth from across Treaty 8 and 6 territories from May 25th - 26th 2015 in Edmonton to share their experiences and knowledge about environmental change in Alberta. The fair will be held at the Shaw Conference Centre. 
Benefits of Participation:
Chance to win prizes for Poster Presentations
Opportunity to learn from prominent researchers from around the world studying environmental change and sustainability
FREE conference registration (valued at $350)
FREE lunch during conference
FREE admission to the TELUS World of Science during group visit
FREE admission to Fort Edmonton Park on the evening of May 25th for opening ceremonies
Opportunity to visit the University of Alberta campus and be mentored by a current university student in the Faculty of Native Studies
Opportunity to learn about educational futures in the sciences and the links with traditional knowledge and indigenous communities
Eligibility:
Students residing in a Treaty 8 First Nation who attend a band-operated or Provincially recognized school in Alberta.
Grade 7-12
Required to prepare poster presentations about key issues of environmental change (e.g., natural resource development, climate change, wildlife health or sustainability of water resources) at the conference
Any Chaperones attending must be available to travel with the student to Edmonton and attend the conference
Support from First Nation, school, and parent (completion of application forms provided)
List of Potential Poster Topics:
Impacts to water resources from oil and gas development
Changes to wildlife health and population from resource development
Importance of medicinal plants and the impacts from forestry
Forest fire prevention
Water rights and access
Community recycling or energy-efficiency programs
Any other topic related to the environment and/or community initiatives around sustainability. Tell us what is important in your community!!
Deadline for Applications:
May 1st, 2014 NOTE: Poster says April 25th but the deadline has been extended to May 1st. 
Click here to fill out application
If you have any questions or would like to apply please contact:
Kelsey Dokis-Jansen kljansen@ualberta.ca
or
Jenn Cardinal jcardinal@treaty8.org