Back to all posts
Posted on
Junior high students at Paddle Prairie School host a Business Expo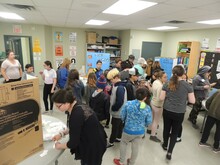 Junior high students at Paddle Prairie School hosted a Business Expo on May 7th. The Business Expo was a celebration of the hard work each student put into their businesses. Many groups of students have already been running their businesses in the community for months and have made a healthy profit for themselves. Through inquiry and trial and error, students have been working through concepts applicable to the real world such as budgeting, accounting, marketing, assessing need and customer acquisition cost, etc.
As the teacher, I have noticed a large increase in student engagement as well as students creating connections to numeracy and literacy without my prompting. This is the second year for the Business Expo at Paddle Prairie School and we have noticed a substantial increase in community attendance and engagement this year.
This year's business included:
1. TKK Cinemas- Kenzie Martineau, Tyler Ducharme, Kadence Poitras.
2. Smoothie Time- Jorja Auger, Leairah Cardinal.
3. Paddle Pizza 63- William Ghostkeeper, Gavin Auger
4. HBD Bakery- Daisy McGillvray, Helen Pederson, Brooklyn Cardinal.
5. Getting Crafty- Novalee Beaver.
6. LnT Detailing- Leilou Edmunds, Tianna McGillvray.
7. Gaming Tournaments- Rayden McGillvray, Logan Wanuch.