Back to all posts
Posted on
Community Conversations: Guiding Principles for an Amended Northland School Division Act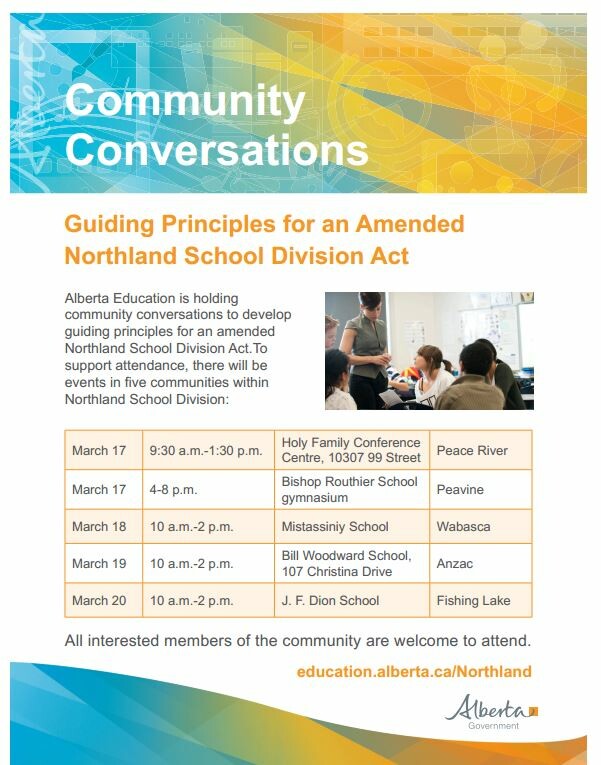 Alberta Education is holding community conversations to develop guiding principles for an amended Northland School Division Act. To support attendance, there will be events in five communities within Northland School Division. Meals will be provided. Click here for more details.
The sessions will be facilitated by Alberta Education and involve a group discussion.

Please confirm your attendance to Melanie Mantai, Executive Secretary, by email at melanie.mantai@nsd61.ca or by calling 1-800-362-1360 extension 6104 before March 10, 2015. Also, please let us know if you have any special needs for the meeting.
Alberta Education will provide transportation to parents and guardians, students, staff, Local School Board Committee members and community members from outside communities via coach or bus. A chartered flight has been reserved for Fort Chipewyan residents. Please see below for pickup times and itinerary information. 
March 17, 2015: Holy Family Conference Centre, Peace River
(9:30 a.m. - 1:30 p.m.)
Paddle Prairie and Keg River
March 16, 2015
Paddle Prairie - pick up by coach at school Monday, March 16 at 3:00 p.m. (travel to Keg River)
Keg River – pick up by coach at school Monday, March 16 at 3:45 p.m. to pick up community members and continue on to Peace River)
Drop off at hotel 

(a block of rooms have been reserved, if you require a room, RSVP Melanie Mantai before Tuesday, March 10, 2015)
 March 17, 2015
Pick up by coach at hotel at 9:00 a.m. and travel to Holy Family Catholic Centre
Depart Peace River at 1:30 p.m. and return home