District Emergency
School closures due to Evacuation Orders
School Closures due to wildfires
Career Pathways School, Wabasca Alberta
Mistassiniy School, Wabasca Alberta
St. Theresa School, Wabasca Alberta
Calling Lake School (school will re-open on Monday, June 17, 2019)
Chipewyan Lake School
Pelican Mountain School (Sandy Lake)
Paddle Prairie School
Any decision regarding school operations will be announced once more information becomes available.
Evacuation Orders
Sunday, May 26, 2019, at 6:00 p.m.: Paddle Prairie Métis Settlement
Re-entry for communities previously under Evacuation Order
Wednesday, June 12, 2019: Phase 3 Re-entry (Return of Residents) for Wabasca-Desmarais, Sandy Lake and Chipewyan Lake. The threat of wildfire still exists for the above-mentioned communities. As a result, an eight (8) hour Evacuation Alert will remain in effect.
Question and Answer page for students, parents, staff impacted by the wildfires
Click here to view the Question and Answer page.
School News
Paddle Prairie students attend Gener8 2019
Posted on

March 21st, 2019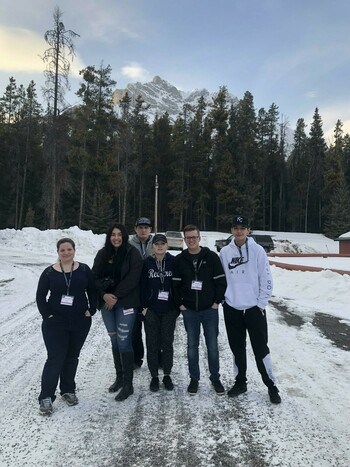 Four students along with two teachers from Paddle Prairie School attended Gener8 2019 in Canmore. The summit, which was put on by Inside Education, gave students the opportunity to explore the issues and possible solutions around climate change and alternative forms of energy. The four days were jam-packed with information from various speakers including the Deputy Minister of Environment and Parks, youth climate leaders in the province, as well as many other inspirational climate and energy leaders.
Throughout their time in Canmore, students worked on a plan to reduce climate change by learning about and participating in the solar panel project on the Paddle Prairie Metis Settlement. The students were also able to enjoy a performance from Peter Katz, dance the night away in Banff, and explore the newest innovative gadgets currently being developed. Upon returning to the community, students are excited about continuing to be leaders of climate change in Paddle Prairie and teaching others in the community about the topic. 
Students: Easton Wanuch, Ethan Richarde, Aaliyah Lizotte, and Jadyn Farnell
Teachers: Julianne Cerna and Lucas Whittle 
To learn more go to www.gener8.ca.